CAMPING IS A POPULAR CHOICE FOR MANY TRAVELERS IN ICELAND. THERE ARE AROUND 170 REGISTERED CAMPSITES IN ICELAND.
MANY OF THE CAMPSITES ARE OPEN FROM THE BEGINNING OF JUNE UNTIL LATE AUGUST OR MID-SEPTEMBER BUT THEN AGAIN OVER 40 CAMPSITES ARE OPEN ALL YEAR ROUND.
Many visitors come to Iceland to experience the pure, clean and untouched environment. Responsible camping allows you to enjoy Iceland in its purest form, and depends on campers respecting nature and minimizing their impact on the area they are camping in.
Icelandic nature preservation law dictates where you are allowed to camp in Iceland if you find yourself away from registered campsites. In residential areas, you are allowed to pitch up to three camping tents in uncultivated land for one night only if there is no campsite in the area.
f you wish to camp on cultivated land or near residential buildings, fenced off farmland, or such, you have to ask permission from a landowner or other beneficiary before you pitch up the camping tent. The same rule applies if you intend to stay longer than one night. You are not allowed to camp on farmland without permission.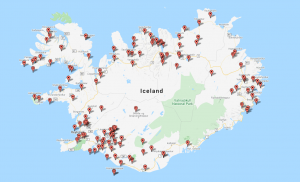 In the highlands, you have permission to pitch up camping tents. This applies only to a regular camping tent. Mobile campers must always seek permission from landowners or other beneficiaries before camping, whether in residential area, on uncultivated land or in the highlands.