Iceland is one of Europe's hottest travel destinations today. Iceland's captivating nature is the main inspiration for most travellers to visit the 'Land of Fire and Ice' on the edge of the Arctic Circle. Iceland has some of the most impressive natural wonders in Europe, which include the unique Arctic light, the Midnight Sun and the Aurora Borealis.
If you'd like ideas on what to see and do in Iceland, a short description is provided of the major attractions and places of interest in Iceland, such as Geysir, Gullfoss, Lake Mývatn, Jökulsárlón Glacier Lagoon and Iceland's national parks.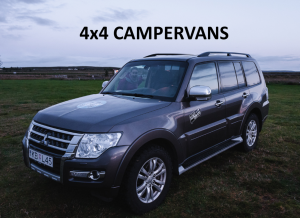 Icelandic weather
An advertisement said "the whole island is air conditioned!" Iceland's cool, oceanic climate is quite mild for its latitude of 63-66° North, thanks to the warm Gulf Stream. The summers are short but bright and the best time to visit is late May to early September – that is, if you're planning a summer holiday. The average daytime temperature around the coast during May to September is 10-12°C (50-55°F). A warm summer day would have temperatures around 20°C. Average daily sunshine in July and August is 5-6 hours and during the summer months the nights are bright. On clear days you have 24 hours of daylight and even the midnight sun near the Arctic Circle. However, the weather is extremely changeable and unpredictable so you should always be prepared for the unexpected.
If you are looking to see the Northern Lights, the time to visit is from September through March. Icelandic winters are not as cold as you might expect and the winter is in many ways a more interesting time to visit Iceland. There is a saying in Iceland, as in many other countries: "If you don´t like the weather, just wait 5 minutes". A typical weather experience would be something like this:
In Iceland, you can expect all kinds of weather in a single day.
Icelandic Money
The unit of currency used in Iceland is the Icelandic krona, ISK – Íslensk króna in Icelandic.  Króna means crown.
The Icelandic word in the singular, "króna", becomes "krónur" in plural. The international currency abbreviation is ISK, but in Iceland you will see "kr." before or after the price of things. Coin denominations are: 1 króna; 5, 10, 50, and 100 krónur. Banknotes are: 500, 1000, 2000, 5000 and 10000 krónur.
Exchange Rate
The Central Bank of Iceland issues the daily rate of exchange. Information on current exchange rate in English can be found on the website of the Central Bank of Iceland. 
Currency Exchange
All banks can exchange currency and most hotels, but you are likely to get a better rate at the bank. Some shops catering to tourists will accept payment in US dollars or euro but not necessarily at the best rate. Almost every shop and most businesses accept Visa and MasterCard credit cards although American Express is not as common. Cards are commonly used in Iceland even for quite small transactions.
However, if you intend to visit isolated villages, or stay in rural farmhouse accommodation in Iceland, it's a good idea to carry enough cash to tide you over.
ATMs – Hraðbanki in Icelandic, or Cashpoints, are easily found in cities and towns. Banks will advance cash against main debit and credit cards, exchange notes and cash travellers cheques.
It is best to exchange your money into ISK in Iceland, and re-exchange any surplus before you leave, as foreign banks may not deal in ISK. You can exchange your money at the Arion bank at the airport on arrival and departure or down town Reykjavik at the FX Iceland.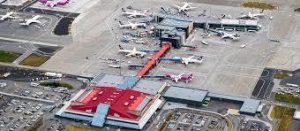 Tax-Free Shopping
Excellent exchange rates mean that Iceland is also a great destination for shopping. Icelandic design is internationally acclaimed and haute couture and top fashion brands can be purchased at competitive prices. Tax-Free service in available Iceland for all visitors. Icelandic shops are also known for their sales; in Icelandic: útsala (plural: útsölur). Prices include tax, unlike prices in the US.
Before Your Journey to Iceland
Please view the website of the Icelandic Directorate of Immigration for information on passport and visa requirements, as well as the Schengen Area regulations.
Business | Shopping | Banking Hours
Office hours are generally 09:00-17:00 and 08:00-16:00 during June, July and August. Shopping hours are Mon-Fri 09:00-18:00, Sat from 10:00 to 13:00/14:00/15:00 or 16:00. Some supermarkets are open to 23:00 seven days a week. Banking hours are Mon-Fri 09:00-16:00.
Currency Exchange
The Icelandic monetary unit is the Icelandic krona (Íslensk króna) – ISK. Coins are in denominations of 100 kr., 50 kr., 10 kr., 5 kr. and 1 kr. Bank notes are in denominations of 5000 kr., 2000 kr., 1000 kr., and 500 kr. All Icelandic banks provide foreign exchange and are generally open on weekdays from 09:00 to 16:00. Exchange rate is set by the Central Bank of Iceland – Exchange rate.
Travellers Cheques | Debit & Credit Cards
All the above are widely accepted in Iceland. The major cards in Iceland are EUROPAY/MASTERCARD and VISA. Cash can be obtained at every branch, as well as in all ATMs throughout the country. Please note that there might be a difference between the official currency exchange rate in Iceland and the exchange rate that the credit card companies do ultimately charge.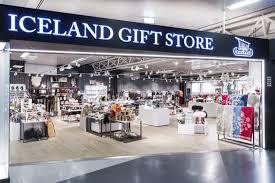 Shopping in Iceland
The shops in Iceland are of international standard and carry a wide variety of merchandise. Local specialities are woollen knitwear (for example sweaters, cardigans, hats and mittens), handmade ceramics, glassware and silver jewellery. Also available is a great variety of high-quality seafood.
Tax-Free Shopping
A refund of local Value-Added Tax (VAT) is available to all visitors in Iceland. The refund will result in a reduction of up to 15% of the retail price, provided departure from Iceland is within 3 months after the date of purchase. The purchase amount must be no less than ISK 4,000 (VAT included) per store. All goods (except woollens) need to be shown at customs before check-in. At Keflavík airport this applies only to tax-free forms whose refund value exceeds ISK 5000. All other forms can be refunded directly in cash at Landsbanki Íslands bank in the departure hall.
Post Offices
There are post offices located in all major communities in Iceland. General hours are: Mon-Fri 09:00-16:30, but some post offices are open longer. Some post offices in Reykjavik are also open during the weekends. Information on opening hours can be found on the Icelandic Post website.
Telephones
Direct calls can be made to all parts of Iceland. The code to Iceland from overseas is +354 + seven-digit number. Direct long-distance calls can be made to Europe and the USA by dialling 00 plus the country code, and the telephone number you wish to reach.
Mobile Phones
GSM: There are four GSM operators in Iceland: Síminn, Nova, Tal and Vodafone. Together they cover most of Iceland, including all towns and villages with over 200 inhabitants. These telephone companies sell pre-paid GSM phone cards as well as offer GSM/GPRS services. Pre-paid cards are available at petrol stations around the country. More information can be found on the Vodafone website.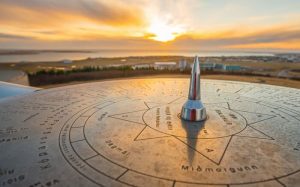 Weather | Climate
Thanks to the Gulf Stream, Iceland enjoys a cool temperate maritime climate: cool in summer and fairly mild in winter. However, the weather is very changeable and tourists should be prepared for the unexpected. Average temperature in Reykjavik in July is around 11°C (c. 52°F), while temperature in January is around 0°C (32°F).  However, temperatures vary considerably from one region of Iceland to another. The Icelandic Met Office provides an extensive range of weather related information in English and has excellent articles showing annual temperature averages in Iceland over the past few years.
Weather | Clothing
When travelling in Iceland you should bring along lightweight woollens, a sweater or cardigan, a wind and rainproof (weatherproof) coat and sturdy walking shoes. Travellers who are camping or heading into the interior will need warm underwear and socks, rubber boots and a warm sleeping bag. Iceland has numerous swimming pools, usually with natural geothermal water; therefore, in either season you should bring a swimsuit.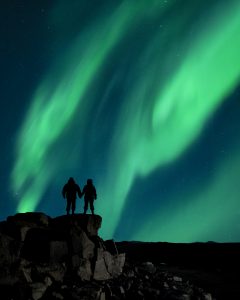 Northern Lights
The magical Aurora Borealis can frequently be seen in Iceland from September through March, provided that the weather conditions are favourable. Iceland is unique in that the Northern Lights can be seen in every part of the country. The Icelandic Met Office provides Aurora Borealis forecast for Iceland.
Midnight Sun
During summer the nights are bright in all of Iceland. In the month of June the sun never fully sets in the north. There are even special excursions to the island of Grímsey on the Arctic Circle where you can experience the phenomenon of the midnight sun. The sun at midnight is not as warm as at midday, so do bring along a sweater!
Time
Iceland is on Greenwich Mean Time (GMT) throughout the year, and does not go on daylight saving time.
Health | Pharmacies | Medical Help
Icelanders enjoy a healthy life, thanks to clean air and water and quality fish. Water is safe to drink throughout Iceland. Pharmacies are called "Apótek" and are open during normal business hours. Many are open at night. A list of pharmacies in Iceland is available here. Reykjavík has a great many general practitioners, as well as specialists, many of whom will receive patients at short notice. There are also many Health Centres in Reykjavík, with officially appointed family doctors who receive patients at short notice during the day. For information tel.: +354-585-1300 or go to Health Care website.
Emergency Medical Help
24 hour emergency phone number in Iceland is 112 – for ambulance, police and fire services. There is a medical centre or a hospital in all major cities and towns in Iceland. Please also read safety information on www.safetravel.is.
Health Insurance
Citizens of Scandinavia have to show a passport in case of medical emergency. Citizens of EEA countries must have the E-111 form, otherwise the patient will be charged in full. Citizens of other countries will be charged in full. For further information contact: Social Insurance Administration
Laugavegur 114 · IS-105 Reykjavík
Tel.: +354-560-4400 · +354-560-4520; Fax: +354-562-5053
Office hours 10:00-15:30
Vaccinations
Vaccinations are not required.
Visitors with Disabilities
Visitors with disabilities can make travelling in Iceland fairly easy by planning their vacation in advance. They may also find it necessary to travel with a companion, since, although there are an increasing number of hotels and restaurants accessible to people with disabilities, they do not always provide full assistance. A number of hotels in Reykjavík and Akureyri have rooms specially designed for guests with disabilities. Larger department stores are generally accessible to wheelchair users. The coastal ferry Baldur is accessible to people with disabilities and so is the ferry Herjólfur. All airlines flying to and from Iceland are equipped to accommodate travellers with disabilities. A few domestic buses equipped for wheelchair users are available for special tours upon request. For accessible hotels and tourist attractions, please visit the website of Sjálfsbjörg, the Icelandic national federation for physically disabled people.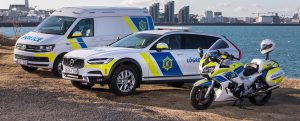 Police
Emergency phone number in Iceland is 112 – for police, fire and ambulance services.
Reykjavík police phone number for information only is: +354-444-1000.
Public Holidays
Businesses, banks and most stores are closed on these holidays:
| | | |
| --- | --- | --- |
| Jan 1 |           New Year's Day | Jan 1 |
| Apr 1 |           Maundy Thursday | Apr 21 |
| Apr 2 |           Good Friday | Apr 22 |
| Apr 4 |           Easter Sunday | Apr 24 |
| Apr 5 |           Easter Monday | Apr 25 |
| Apr 22 |           First Day of Summer | Apr 21 |
| May 1 |           Labour Day | May 1 |
| May 13 |           Ascension Day | June 2 |
| May 23 |           Whit Sunday | June 12 |
| May 24 |           Whit Monday | June 13 |
| June 17 |           National Day | June 17 |
| Aug 2 |           Bank Holiday Monday | Aug 8 |
| Dec 24 |           Christmas Eve (from noon) | Dec 24 |
| Dec 25 |           Christmas Day | Dec 25 |
| Dec 26 |           Second Day of Christmas | Dec 26 |
| Dec 31 |           New Year's Eve (from noon) | Dec 31 |

Religion
The established religion in Iceland is Lutheran.
Language
Icelandic is a Germanic language of the Nordic group. It is believed to have changed little from the original language spoken by the Norse settlers. English is widely spoken and understood. Icelandic has several letters of its own, including: Þ/þ, pronounced like th in "thing" and Ð/ð pronounced like th in "they."
Tipping
Service and VAT are customarily included in prices in Iceland.
Electric Current
The electric current in Iceland is 220volts, 50 HZ AC.
Europlug/Schuko-Plug (CEE types)