Winter events & holidays
From raving electronic music to the illumination of the Peace Tower, Iceland has a lot of interesting events and holidays during the winter months. Here are some of the most notable ones: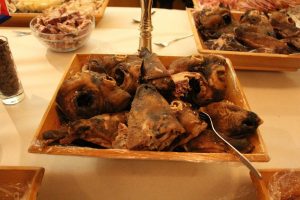 Þorrablót
Mid-January to mid-February
Þorrablót is a midwinter festival that gets its name from the historical Icelandic month called Þorri, which corresponds to mid-January to mid-February. Although this event has a long history, the modern version of this festival arose out of a romantic nationalist movement in the late 19th century, where people would feast and recite poems in honor of Thor (Þórr), the well-known Norse god. The even grew in popularity over the 20th century and was heavily influenced by a restaurant that started serving a specific "Þorramatur" platter and the rest is history. Let´s just say that this was not a vegetarian restaurant and if you are a vegetarian, this festival is most likely not for you.
Today, people get together and enjoy this feast of traditional Icelandic foods, poetry readings, and more. If you want to experience Icelandic cuisine at its best and worst, you should find a way to join a Þorrablót during your stay. Haven't you just been dying to try a sheep's head or putrefied shark?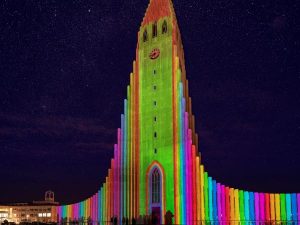 Winter Lights Festival
February
Website
Winters in Iceland are very dark, so it's not surprising that we try to fight that with fun and colorful events in the depths of winter. The city of Reykjavik runs the Winter Lights Festival where it puts together a cool program that is a mix of art, industry, environment, history, sports, and culture. They set up specific festival events all over the city and they are targeted towards locals and travelers alike. The best thing is that all events are completely free, so it's the perfect way to brighten up a dark winter day in Reykjavik.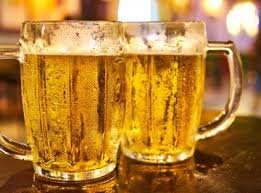 Icelandic Beer Festival
February
Website
Did you know that beer was illegal in Iceland until 1989? No joke. So there's no wonder why Icelanders celebrate their beer freedom with a 4-day festival in Reykjavik that feature some of the best beers the country has to offer. There are a few foreign beers that sneak in there but who cares when you're surrounded by awesome beer and good food? The festival is held at the popular Kex Hostel near downtown Reykjavik and guests can taste beers and chat with the people behind those amazing brews.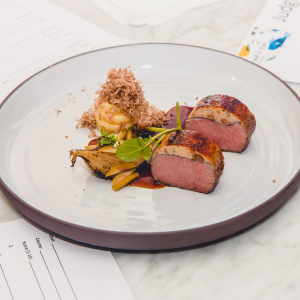 Food and Fun Festival
February – March
Website
World-class chefs and from Europe and North America team up with some of the most renowned Reykjavik restaurants to cook up amazing meals using only Icelandic ingredients. This famous and prestigious food festival will has been held for many years and you will find a lot of foodies all around the city enjoying the vibrant and friendly atmosphere of the festival.
Reykjavik Folk Festival
March
Website
This is a 3-day folk music festival that, like the Beer Festival, is held at Kex Hostel. All sorts of artist showcase their talents at this festival and it's a great opportunity to catch a glimpse at some of the older Icelandic music styles.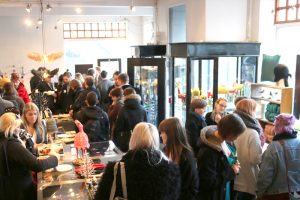 Design March
March
Website
The name says it all – it's a 4-day festival that celebrates all aspects of local design, although it features some international designers as well. They set up over 100 events and exhibitions set up by over 400 talented designers.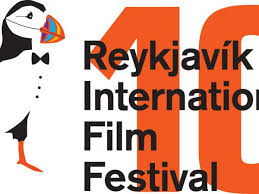 Reykjavik International Film Festival
September – October
Website
Reykjavik International Film Festival (RIFF) is a well-established 11-day film festival that offers people to enjoy the best of international filmmaking. You can watch films, attend workshops and exhibitions, and interact with filmmakers. The festival focuses on a wide variety of dramas and non-fiction films from over 40 countires. The main prize is the Golden Puffin, which is way more adorable than the Oscar statue.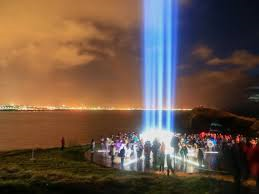 Imagine John Lennon Peace Tower Reykjavik illumination
October 9
Website
The Imagine Peace Tower is a piece of artwork that symbolizes John Lennon and Yoko Ono's continuing campaign for world peace and was officially unveiled on October 9th, 2007, on Lennon's 67th birthday. It's incredibly fitting to see it light up the skies of one of the most peaceful countries in the world. Personally, I have been able to see the light right outside my parents' window since 2007 and it has become a part of our treasured environment.
Iceland Airwaves
November
Website
This is unquestionably Iceland's biggest music festival and will be held for the 20th time in 2018. It started out a tiny festival in an airport hangar at the Reykjavik Airport but it has come a long way since then. The festival features amazing artists and even more unique venues. You can expect to find some world-famous artists as well as discover some really talented unknown artists. Some people describe the music played at the festival as the "best music you've never heard".
The festival is hosted both in Reykjavik and Akureyri and for 4 full days people can enjoy the best that Iceland's nightlife, music, cuisine, and nature has to offer.
Christmas
December
Starting around December 3rd to the 25th, Reykjavik turns into a winter wonderland full of Christmas spirit. The festivities symbolically start with the lighting of the Oslo Christmas tree at Austurvöllur, which has been a tradition for many decades. People love doing their Christmas shopping at the Laugarvegur shopping street and there are plenty of Christmas related events, such as the Christmas program at Árbær Open Air Museum, which captures the Christmas spirit of Reykjavik in the early 20th century.
Families in Iceland will celebrate on Christmas Eve, not the 25th. They will go to church, enjoy a Christmas meal, and spend the rest of the night to open presents and munching on Christmas cookies. The 25th is then usually spent meeting with extended family or to be lazy, eating leftovers and enjoying new gifts.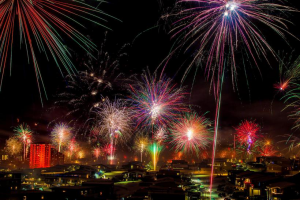 New Year's Eve
December 31st
My personal favorite event of the year. It's hard to describe the feeling of New Year's Eve in Reykjavik and as I've already mentioned, it's quite similar to what it feels like to see the northern lights. This is the biggest party night of the year for Icelanders and I'm pretty sure no other nation blows up more fireworks per capita. People meet their neighbors at the local "brenna" ("burning"), which is basically the biggest bonfire you will ever see and starts at 8:30 PM. After the brenna, people go back home and watch the most watched television show of the year (watched by 90%+ of the population), a comedy called "Áramótaskaup" (New Year's Comedy), where some of the most talented Icelandic comedians make fun of various events that happened throughout the year. For an Icelander it's a lot of fun – for foreigners, not so much. My American wife Kristie usually reads a book or takes a nap during the show. Finally after the show, around 11 PM, the skies becomes lit up with fireworks until it reaches its climax at midnight, when people say goodbye to the old year and welcome the new with lots of champagne, hugs, and kisses.