Exploring the city of Reykjavík
Reykjavík is the capital city of Iceland, and is the Island's largest  city, making it the center of urban life, cultural advancement  and haven for arts and festivals.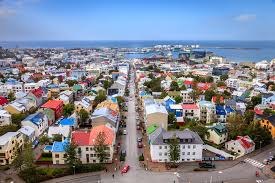 The city also leads the world as one of the top greenest places, and pushes natural  initiatives when it comes to energy use, water and food. According to an ​article by  Grist​, the town's goal is to be completely free of fossilized fule by 2050!
If you're traveling to Iceland and are planning on staying in Reykjavík for a few days,  you more than likely will be eager to visit the most popular destinations within the  city. Don't worry, there are plenty of local attractions and places to experience during  your stay!
In this post, we'll give you the grand tour of Reykjavik, so you  know exactly what to do and where to go. From tourist hot spots, to some more out of  the way hidden secrets that you'll want to discover, we'll cover it all for you!
Our hope is that by reading this post, you'll have a better understanding of the city  of Reykjavík and the people living here, some history tid-bits here and there, places  that sell excellent food, and above all, an open door for you to get out and be  adventurous. That is, after all, why you're planning on visiting us, right?   
So without further delay, join us as we explore the city of Reykjavík!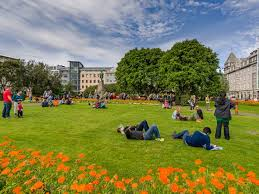 Visit the Kringlan Mall 
Yes, we have a mall here in Reykjavík, with dozens of stores and restaurants to check  out! Get a first hand peek of modern society by looking and trying out some of  Iceland's best sports clothing and outdoor apparel by visiting the 66 North Store​, or  visit the food court where you'll have a large selection of fast foods to taste!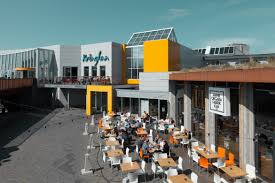 We also recommend that you stop by the Bonus Grocery store​ where you can find  fresh ingredients to take with you on whatever adventure you find yourself on!
From vegetables and fruits, meats and dairy, to easy preparation snacks and meals,  Bonus offers it all at great prices.
Catch a movie at the SAMbion Theater 
With over three different auditoriums, our Sambion movie theater is renovated with  the latest features in cinema, including comfortable lounge seating, state of the arch  screen projection, and delicious popcorn and snacks to make your cinema  experience more enjoyable! You can either purchase tickets in the theater, or get  them in advance by going online at www.sambio.is/Vouchers.
The Settlement Exhibition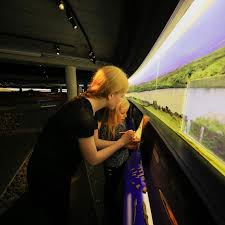 If you'd like to freshen up on some history of the first Icelandic people, you can visit  the Settlement Exhibition in Reykjavík, which has on display hundreds of artifacts and  ruins of houses dating back to the age of the vikings.
According to the Reykjavik Museum's website; "The exhibition is based on scholars  theories on what the heritage sites in central Reykjavík can tell us about the life and  work of the first settlers. The focus of the exhibition is the remains of a hall from the  Settlement Age which was excavated in 2001."
Icelandic Street Food Restaurant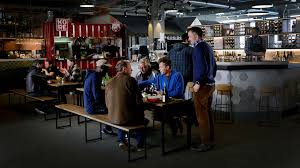 According to the restaurant owner and founder Unnar Helgi; "Icelandic Street Food is  the first fast food concept in Iceland with traditional Icelandic food, the idea was to  give all visitors of the country the fullest experience of home made Icelandic  traditional food without going out and spending a fortune for fine dining. ​I​celandic  Street Food is a family owned business with recipes made from my Grandmother. She  makes all our traditional delicacies such as Icelandic Pancakes & Happy Marriage  Cakes."
You can really eat just about any tasty Icelandic dish here, whether you're looking for  a delicious bowl of lamb soup served in a bread bowl, or cod fish fried with chips –  the Icleandic Street Food is your one stop to experiencing all of our islands popular  foods and desserts!
Laugardalslaug Public Swimming Pool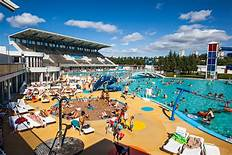 This swim park is one of the most amazing to visit in Iceland, and offers lots of ways  for you to relax with heated waters all year round, water slides for the kids, Volleyball,  hot tubs and much more!  Unlike some lagoons, this one is actually very affordable, and costs about $10 per  person. A lot of visitors like to visit this pool to rejuvenate themselves after arriving in  Iceland, as sometimes the long flight from their country and getting settled can be a  stressful event.   Stopping by the public pools to soak your body in the warm waters is a great idea  before you begin traveling to see the other parts of Iceland!
Rent a Kuku Camper Van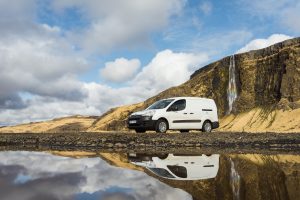 As you are wrapping up your urban visit in Reykjavik, it will be time to hit the open  road to see some of the most beautiful places on the planet. To do that, you'll want to  stop by and book a Kuku camper van for your trip.  We like to call our Kuku Camper Vans 'Hotel on Wheels' because it's literally like being  in the comforts of a hotel room but getting to travel anywhere you want!
A few benefits our vans offer that our happy customers enjoy are:
Free mileage​ –
That's right, unlike some camper van rental companies, we don't  charge you extra for the miles you drive. That means you can take a trip on the Ring  Road and go in circles until you get dizzy and become sick – whatever you want to do!
No extra insurance fees ​-
your kuk camper van is covered in the case the wind blows  you off the road at no extra cost to you. Everything is included in your affordable  amount!
Amazing interior amenities – ​
Our campervans come equipped with all the comforts of  home, and include things like a kitchen table to sit at, cooler to keep your food cold,  a gas stove to cook fresh and delicious meals, dishes, pots and pans and utensils,  and even power outlets to charge your electronic devices with!
Before you travel the great landscapes of Iceland make sure you're driving your next  adventure – make sure you're driving a Kuku Camper Van!