RUNNING IN ICELAND
There are many different possibilities to run in Iceland.  Does not matter if you are into street running or trail running you will find something to suit your interest and capability.   All year round there are competition run ( mostly for fun though ! ) that you can participate in and meet the local runners crowd.  The ones in the winter time are only street runs but from early spring until late autumn a lot of opportunities for trail running is available.
Here below you will find a list and information about few of interesting runs for you to choose from.
Trail running
Mýrdalshlaupið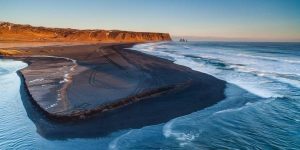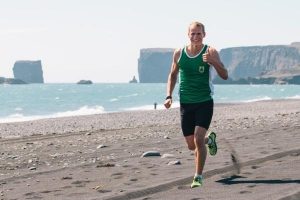 Late May this trail run from Vik on the south coast of Iceland, about 2 hours drive from Reykjavik, is on of the hallmarks marking the beginning of the off road running summer.  You can choose from 10K and 21K distances both will bring you to the most scenic surroundings of the infamous Black Beaches of Iceland South Coast.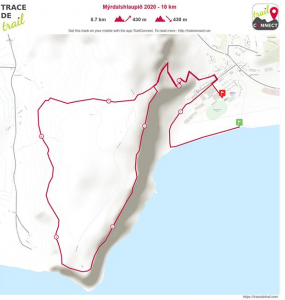 Hengill Ultra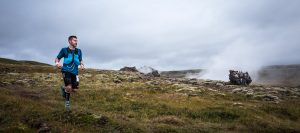 Early June this running event ( before it was held in September ) is offering various distances in a interesting volcanic and hotspring surroundings.
The Annual Hengill Ultra Trail Run offers the Ultra Trail distances that consist of 5KM, 10KM, 25KM, 50KM trails and the longest trail run in Iceland with a distance of 100 KM, the 100KM is actually the 50KM trail run twice over. With this alteration the safety of participants is further enhanced while the race takes them through open ranges and mountain rifts in the Hengill area. This gives the organisers of the race opportunity to provide better services and increased safety for the competitors. For families and recreational runners there are 25KM trail available as well as a 10KM light run and children's and family run of 5KM
This event is truly interesting for foreign visitors as it is on in less than one hour driving distance from Reykjavik and at this time of year we do have daylight around the clock.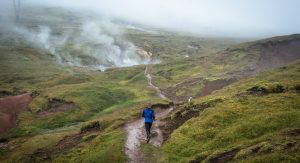 Mt Esja Ultra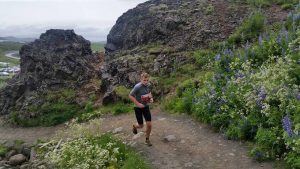 This fantastic mountain run is held at the doorstep of Reykjavik and you can even take the city bus to get there. This challenging and exiting run is held every June and it offers three distances.
Mt. Esja Maraþon is 45 K with elevation of 3200 meters.
Mt. Esja Ultra II, who rounds on the mountain, 14K with elevation of 1200 meters
THE ROCK is 3K distance with elevation of 600 meters  – limitied to 150 participants only!
Snæfellsjökulshlaupið ( Snæfellsnes Glacier Run )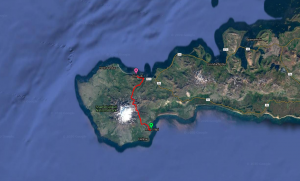 Another late June fantastic trail run is the Snæfellsnes Glacier Run which takes you from the south coast of the Snæfellsnes peninsula to the north side with the goal in the town of Ólafsvík where the people great you with festival music and other fun.  The trail is past the infamous glacier and the route is superb when coming to a scenic route. The distance is 22K and the drive from Reykjavik is approx 2,5 hours.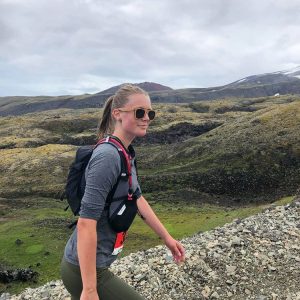 Dyrfjallahlaupið – East Coast Iceland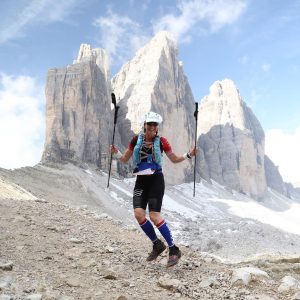 A totally unique nature in this trail route will slow you down as you will be stopping for taking pictures so much and just simply stopping to wander where you are !  The route is 23K and it is a rough terrain that challenges your off road running skills, the good news is that you can take as much time as you wish ( almost !! ) and you will meet a lot of local runners that can give you all kinds of inside information on where to go to see interesting sights on this part of the country.  It is held on the far east side of Iceland and is good for your campervan journey around the country.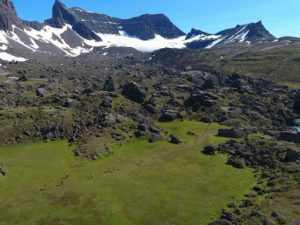 Laugavegur Ultra Trail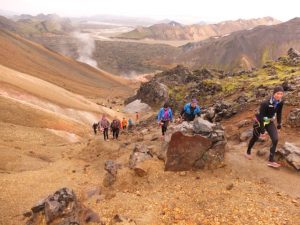 The most famous trail run in Iceland is the Laugavegur Ultra Trail run in the highlands.  This 55K trail run takes you through variety of surroundings ranging from lava fields, clay hot springs, sand, grass fields and bush land.  This is truly an adventurous run that is one of a lifetime experience.  Bus from Reykjavik and back is offered and this as almost a 24 hours event with a group of Icelandic and international runners, fantastic opportunity to expand your runners network.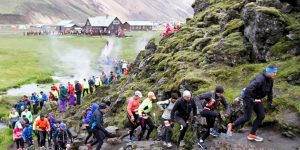 Tindahlaup Mosfellsbæjar ( Mosfellsbaer mounain run)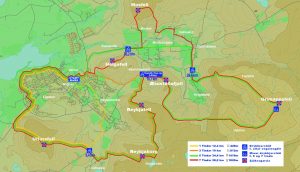 Almost in Reykjavik ( 15 minute drive from down town Reykjavik ) this mountain run is offering four different routes, pending on how many mountain peaks you want to "hunt".  These are the options:
1 peak is 12K and 420 meters elevation
3 peaks is 19K and 812 meters elevation
5 peaks is 34,4K and 1,410 meters elevation
7 peaks is 38,2K and 1.822 meters elevation
The run is held last weekend of August every year.
Street run
Mývatnsmaraþonið ( Lake Myvatn Marathon )
To run around the beautiful Lake Myvatn in northern part of Iceland is a fantastic way to kick of the running summer.  Every May this event consists of full Marathon and the Lava run the day, a 9,4K long in the lava field of the famous Dimmuborgir lava formation national park.
The Marathon run is around the Lake Mývatn on a flat asphalt road with a view of the lake and the volcanic scenery all around.
Both of the runs gives you an free entrance to the Mývatn Nature Baths and the runs do start and finish there.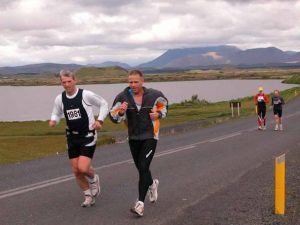 Midnight Run in Reykjavik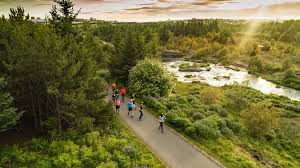 The Suzuki midnight run is truly a unique run as it starts from 9 pm and it goes on until midnight.  This is a fantastic opportunity to enjoy the 24 hours daylight while running through part of Reykjavik city.  The distances offered are, 21K (half marathon), 10K and 5K.  This is becoming one of the bigger running event in Reykjavik and a perfect opportunity to meet local runners of all levels of running capabilities, from children up to the best you find in the country.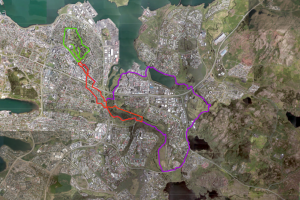 Reykjavik Marathon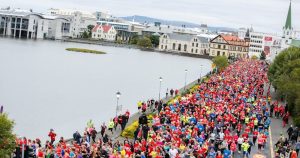 This most popular running event in the country takes place every August in alignment with the Reykjavik Cultural Night event.  Various distances are available from fun jogging for the kids up to full marathon.
600 meters children fun run
3K fun run
10K
21,1K half marathon
42,2 K full marathon
All runs do start from down town Reykjavik where they also finish, giving the downtown are a truly festive feeling.  Thousands of runners along with families and friends gather in the down town area which is filled with music and fun activity.   The runners get to see Reykjavik on a totally different perspective as the streets are closed and people are cheering along the route.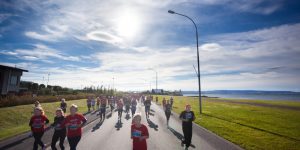 So as you see from above short overview of many runs available in Iceland,  bring your sneakers and athletic gear and enjoy with the locals.   From comprehensive list of runs and other detailed information visit hlaup.is