Pictures of people having fun camping in Iceland
A Picture is worth 1000 words they say and here below you see some pictures from camping in Iceland that can give you idea about what to expect.
Peeking through a iceberg, most likely looking at his girlfriend !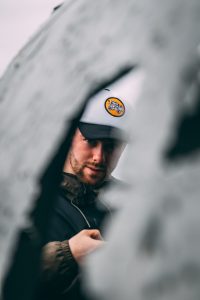 The musician Justin Bieber made this one of Iceland's south coast most popular site.  You park on the parking lot right on Ring road 1 and then hike for 20 to 30 minutes down the black sand beach to see this old DC 3 wreckage.  A unique contrast from modern motor age and the old black beach sand.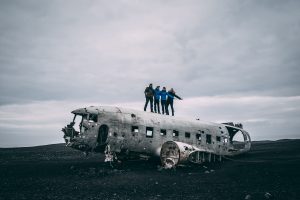 There are ways to hike and see real glacier caves with such a spectacular play of light that it gives the caves a blue color.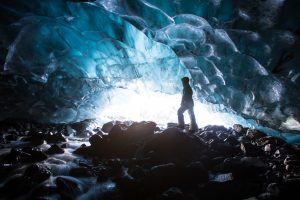 She is overlooking the moss covered lava field wondering if she is at the end of the world.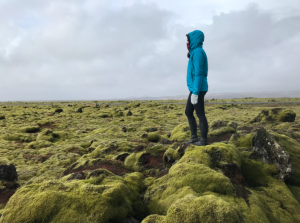 A good kiss from a horse is the second best from kissing the frog in exchange for a prince.  I will not tell you what you get from kissing the Icelandic horse, you will have to find out for your self.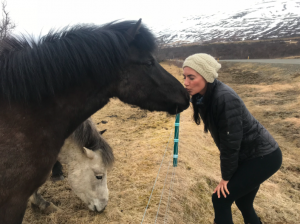 On the Diamond Beach on the south coast of Iceland hundreds of icebergs are melting on the beach.  Imagine you touching this ice that is made from snow that fell on the glacier some 500 years ago!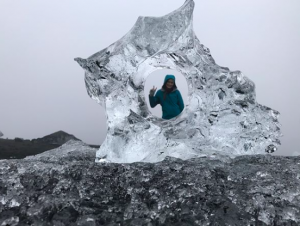 A cute couple at the Goðafoss waterfall on the ring road in north of Iceland, on the way between Akureyri and Myvatn.   A very good spot for stopping as you will be able to get really up close to a powerful waterfall.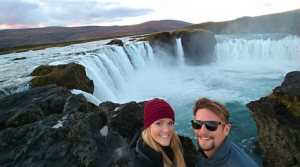 This is one way to relax on the beach, not the traditional beach chair though and you might want to be sure to have waterproof trousers or at least have a spare one!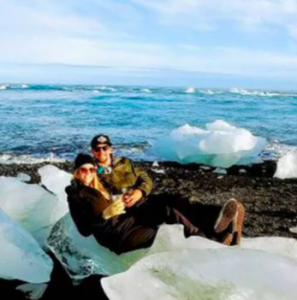 This poetic picture can be called "The man and the plane"  right ?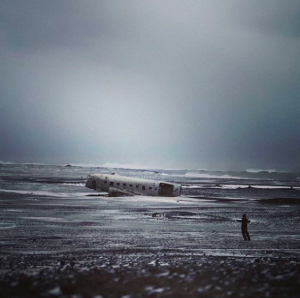 On her way to Seljalandsfoss this girl is about to experience to walk behind the waterfall for a special experience.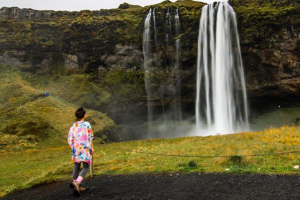 The unique formation of the glacier crawling into the glacier lagoon mirrors perfectly on the lagoon's surface as this girl watches in awe.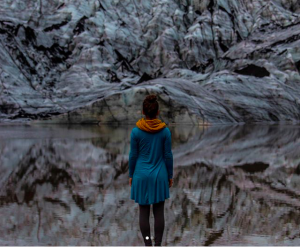 I guess this one is waiting for Friends to appear on the TV.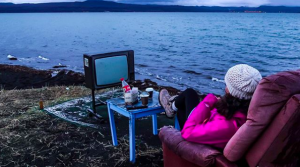 Dancing on the beach is something else, specially when this is around midnight !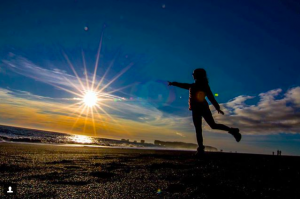 Your vacation is not going to last for you to see all the different waterfalls in Iceland so make sure to choose those you visit carefully.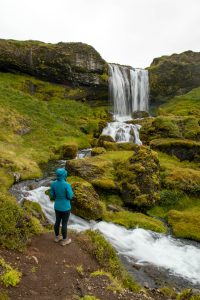 Goðafoss is on the north part of Iceland and here you can see how up close you can get to feel the power but be careful as we want you to arrive safe to home.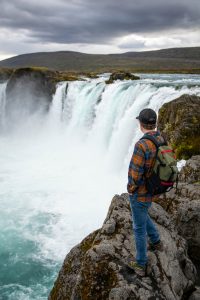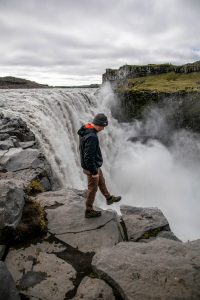 Skate boarding in winter- hey why not.  At least she seems to be having the time of her life!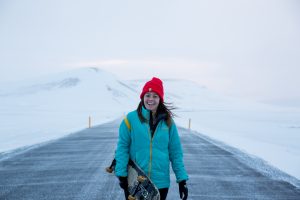 This gives the meaning of recliner a different flair !   I hope hi did not drift out on the Atlantic ocean.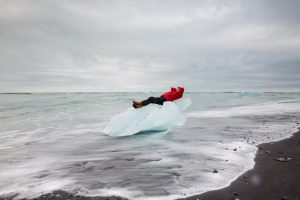 Well what do you do but to pose in this way in this surrounding which is typical for Iceland.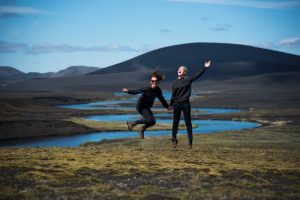 Magical places those ice caves, with warm geothermal stream carving the way.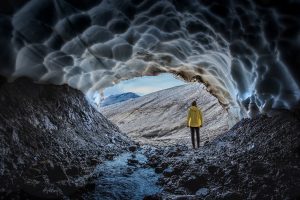 When is the next shop coming in,  might this guy be wandering.  But he would have to wait a long time as there are no harbors on the south coast from Höfn to Eyrarbakki, some 400 km distance between.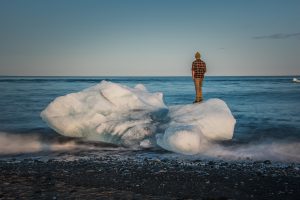 A fantastic place for a meal right !  During your camping vacation, do not hurry to much and stop regularly for enjoying food.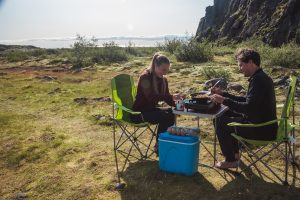 This girl has invested in Icelandic wool sweater, most likely hand knitted by the farmer's wife of this farm resting close to the beautiful mountain.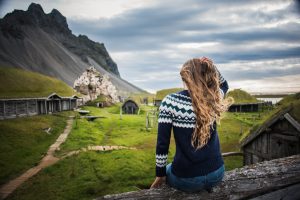 Háifoss is waterfall to visit,  makes you realize how small we are in the nature.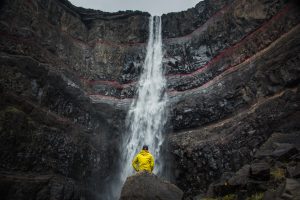 Nope not waiping,  this is something you will see at many of Iceland's geothermal areas.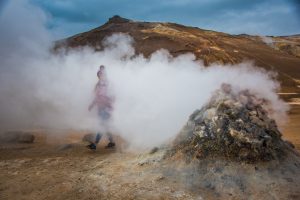 Ásbyrgi is one of Iceland's most romantic place.  Shaped like a horses hoof ( horse shoe ) this area is excellent to camp and enjoy.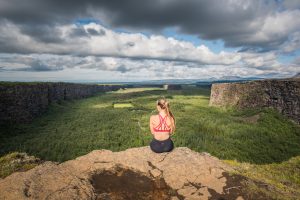 Dynjandi waterfall on the Westfjords is a must stop if you are making that part of Iceland included in your travels.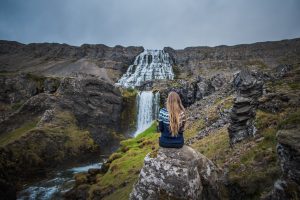 Running around at Dyrfjöll in the east part of Iceland is one way to reach happyness.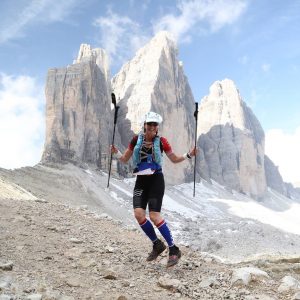 Overlooking one of Iceland's many black sand beaches.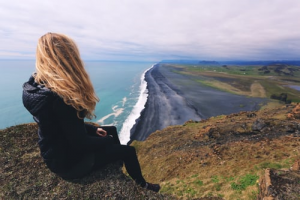 All this lava, every where !  Why ?  How?  No wonder why she is making a picture there.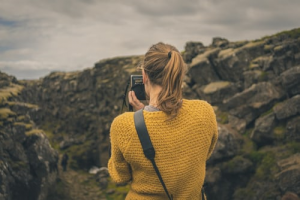 Strolling along Reynisfjara black beach with one of the rock islands to explore.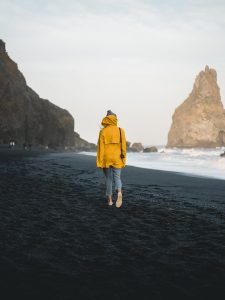 In the middle of nowhere !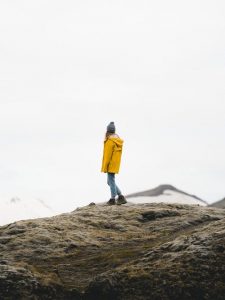 All that ice,  and the unique formation of the glacier cracking up on its way to the flat land.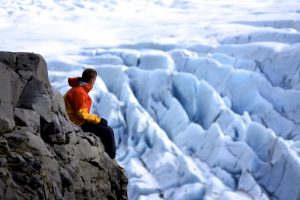 Varða – the Icelandic version of Milestones.  Made to know your way around in the fog and winter storms, travellers would walk between those structures to find the way home.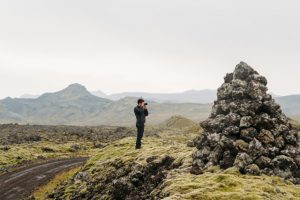 I wander what he is photographing , maybe a bird ?
Running in the hospring geothermal area is an experience you do not find in many countries.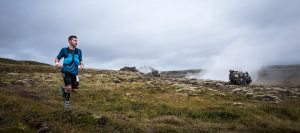 Hot dot – "ein með öllu" – the traditional fast food of Icelanders.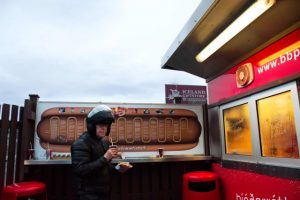 Its not always summer !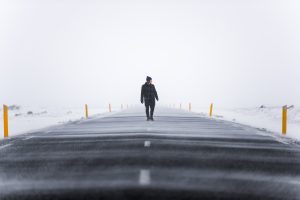 More black sand beaches.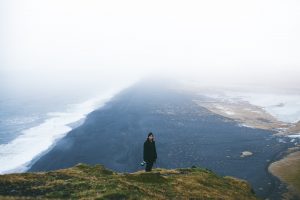 Alone in the snow – a walk to remember.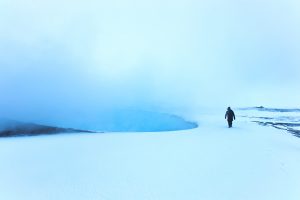 A good place to rest those feet after the day of hiking and exploring.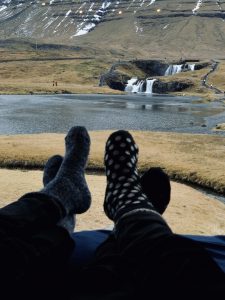 Me and the glacier – could be the name of this photo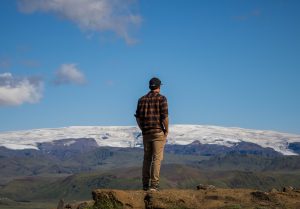 Uhhh this one as well !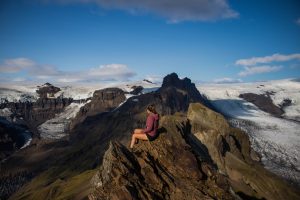 Enjoying hiking along the trail overlooking the crawling glacier. If you stop and listen you actually will hear the sound of the glacier moving.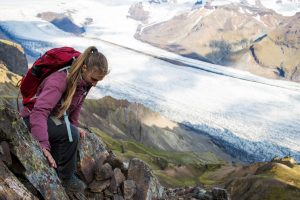 On a pedestal overlooking the glacier coming down.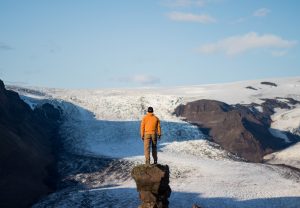 Having loads of fun on the glacier.
Taking a photo of the glacier lagoon, perhaps she saw a seal swimming around in there.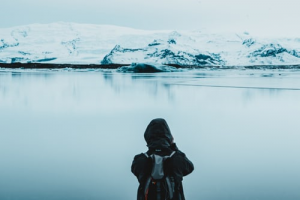 Easy living down town Reykjavik on a summer day.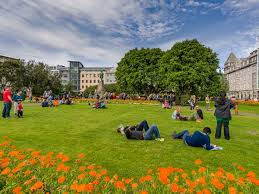 Reykjavik marathon is perfect for you,  burn some calories and meet the locals.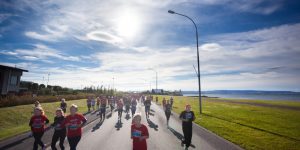 Hiking in the sunshine, not bad at all.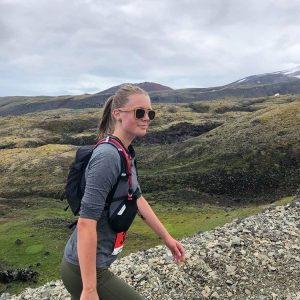 Highland hiking is truly popular in a group of good friends.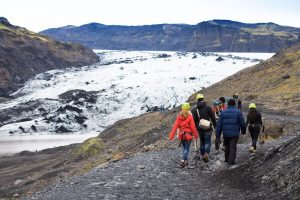 And having a bath in the highlands is something you will remember for the rest of your life.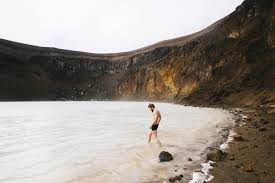 Another astonishing combination of ice and light,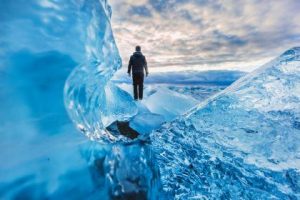 Hey some one there ?  I need a ride to town……..